My right psoas is tight, and it's gotten tighter in recent months as I've resumed my 9 hr days of sitting at a desk.  So, I decided to attend a backbend workshop this past weekend to give it some extra attention.  What did I discover?  Yep, my psoas is tight.  And backbends and their preparation poses are exactly what I need to loosen it up. 
If you aren't familiar with your psoas, it's the muscle that runs in the front of pelvis where your hip flexor is located, it travels through the pelvis and attaches to the lumbar area of your spine (OK, lower thoracic, too).  I've included a picture below for good measure. 
I know I'm in really good company.  Most runners' psoas are tight, and I'm convinced sitting all day like most Americans does not serve the muscle, either.  As I begin to chip away at the density of this muscle, I feel much more freedom throughout my entire hip/pelvic area.  It's simultaneously liberating and frustrating, as I feel how tightly I am still bound in this area. 
So, if you ever become aware of tightness in your psoas, try these poses (among others), and do them frequently:
Crescent Pose or Virabhadrasana 1
Trikonasana
Anjaneasana
Anjaneasana w/ thigh stretch
Ustrasana
Janu Sirsasana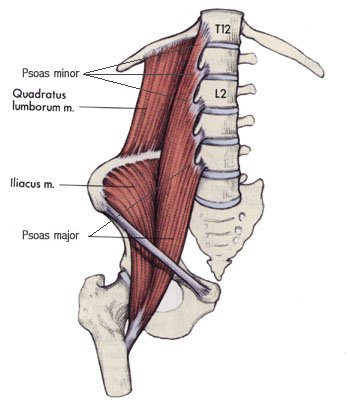 49 notes
fictitiousse likes this
gaiaheals likes this
beyondthemat posted this